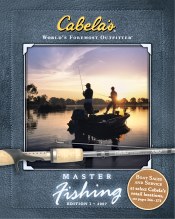 The top fishing gear for fresh or saltwater
Cabela's Master Fishing Catalog is the place to shop for all your fresh and saltwater fishing supplies, from sonar fish finders to fishing waders, rods, poles, lures and tackle featured at catalogs.com.
Shop Cabela's Master Fishing Catalog Now!
Saltwater fishing supplies and gear -- From the latest in saltwater fishing tackle to rods, reels, lures, and stands, they have all your salt water fishing gear needs covered. Whether you're stocking up for bay or surf fishing, or looking for the perfect equipment to go after that prize Marlin, let the pros at Cabela's be your salt water fishing resource.