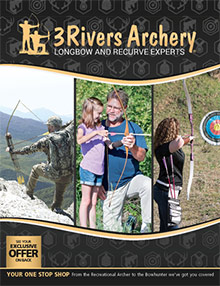 3Rivers Archery
Shooting arrows and hunting arrows for archery, bows and accessories
Get 5% off your first order of $50 or more Enter the Offer Code - CATW - in the Offer/Key Code box at checkout and then click the box below, "Click Here to apply Key Code". Offer applies to retail orders only. Can not be combined with other offers. A Minimum order of $50 is required.
Shop these 3Rivers departments now
If you're searching for archery equipment, your search ends at the river with the 3Rivers Archery catalog, the longbow and recurve experts. Use the valuable coupon code to prepare for the hunt with top of the line arrows for archery including arrows for hunting, shooting arrows and masterful bows and bow accessories for pro and beginner archery levels.