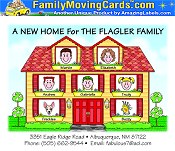 Family Moving Cards
Personalized moving cards and custom moving announcements
Get 10% Off all orders Enter the Key Code / Coupon Code - MCD - at checkout on the Family Moving Cards website.
Shop these Family Moving Cards departments now
Have an upcoming moving date set? Allow Family Moving Cards to help you stay on top of all those change of address correspondences you need to get out ASAP by creating adorable personalized moving cards featuring a character for every member of your family! Enjoy custom moving announcements and a variety of personalized stationery products!