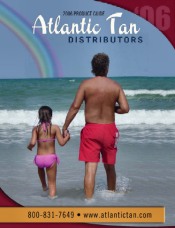 Atlantic Tan - Tanning Beds & Supplies
Get a beautiful indoor or sunless tan from the comfort of home!
Take $100 OFF of the regular price of tanning beds and the Magic Tan Spray Booth and 10% OFF total sale of other Atlantic Tan products.
Shop Atlantic Tan - Tanning Beds & Supplies Now!
Atlantic Tan is the only tanning distributor you need for quality commercial tanning beds, VersaSpa age-defying sunless tanning, airbrush tanning equipment, swimwear, beachwear accessories and sunless tanning lotions. They carry a full selection of indoor tanning supplies for the at-home tanner, including personal tanning beds, sunless tanning units, tanning bed lotions, and smaller, easy to operate airbrush units.