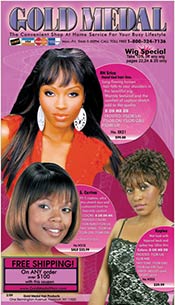 Gold Medal Hair
Hair care for black women with hair care products, wigs & hairstyles for black women
Get $5 Off any purchase Enter code - 021507F5 - at checkout on the Gold Medal Hair Products website.
Shop these Gold Medal departments now
Gold Medal brings your African American hair back to life with hair products that are uniquely designed to bring natural health and manageable styling back to damaged, over processed or over treated hair. For the best hair care for black women, Gold Medal will win first place when it comes to all of your hair care and hair styling needs.