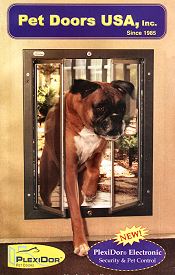 Pet Doors U.S.A.
Pet doors, training aids and accessories
Receive $5 Off any order of $75 or more! Enter the promotional/coupon code - PDCSN - on Pet Door's checkout cart.
Are you on ""door duty"" 24 hours a day ? With pet doors, your pet is free to come and go whenever they need to. No more ruined carpets, wasted energy, scratched doors or messy litter trays. Pet Doors has 70 styles to choose from - with sizes ranging from cats to Great Danes – including styles for regular doors, walls, and screens. They even have patio pet doors.