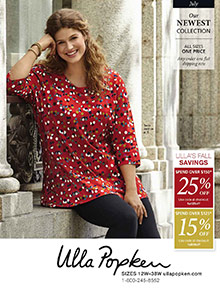 Ulla Popken
Stylish plus size fashion trends
Get 25% Off on any orders over $150
Get 15% Off on any orders over $125 Enter the promotional code - fall25off or fall 15off - during checkout on the Ulla Popken website.
Shop these Ulla Popken departments now
Amazing fashions for the stylish plus size woman are available in the Ulla Popken catalog which now includes our European line. Plus size tunics, tees, jeans, pants, dresses, leggings and more. New collection offerings each month.