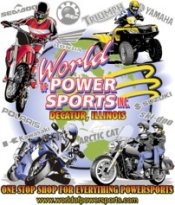 World Of PowerSports Genuine Parts
The largest genuine OEM parts dealer in the country for motorcycles, ATV's, jet skis and other power sports
Get 20% OFF your entire order! Enter the savings code - Catalogs.com - at checkout on the World Of PowerSports website.
Shop World Of PowerSports Genuine Parts Now!
Select all your genuine parts and accessories from an AUTHORIZED DEALER - World Of PowerSports Genuine Parts is the largest distributor of genuine OEM parts in the U.S.! Choose among genuine OEM Honda motorcycle parts, Yamaha motorcycle parts, Honda atv parts, Suzuki atv parts, Yamaha atv parts, Kawasaki parts, Polaris parts, and so much more.