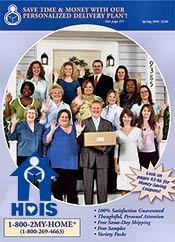 Urinary incontinence products - incontinence care delivered to your door
HDIS delivers urinary incontinence products to your door with female and male incontinence products for adult incontinence care - featured at Catalogs.com.
New Customers only, get up to 2 cases of Depend Underwear @ $49.95/Case. (50% off)
FREE SHIPPING to the continental US
Click from Catalogs.com to HDIS to get this offer. You must order from the 1st page where special offer is presented.