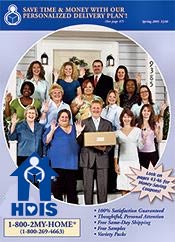 HDIS
Urinary incontinence products - incontinence care delivered to your door
New Customers only, get up to 2 cases of Depend Underwear @ $49.95/Case. (50% off)
FREE SHIPPING to the continental US
Click from Catalogs.com to HDIS to get this offer. You must order from the 1st page where special offer is presented.
For over two decades, HDIS has specialized in providing the highest quality of urinary incontinence products and supplies to those experiencing the loss of bladder control. HDIS has made it their goal to provide quality care for those challenges by offering convenient and affordable adult incontinence care products that are home delivered for your convenience and complete privacy.