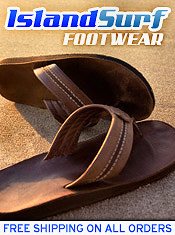 Island Surf Footwear
Sandals, Flip Flops and casual footwear
Get 10% Off and Free shipping on any order Enter the coupon code - SUMMERSURF - at checkout on the Island Surf website.
Shop Island Surf Footwear Now!
Life's a beach, and Island Surf prepares you for a life on the beach with the hottest styles and brand names in sandals flipflops and casual footwear!