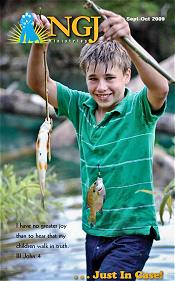 No Greater Joy
No Greater Joy Ministries - Books & videos for Christian families
Get /*The Vision*/, Debi Pearl's first novel and catch the vision for world evangelism!
/*The Vision*/, 340 page book: Reg. $14.95 - Now $9.95 Enter the coupon code - CAT11091 - in the payment section of the checkout and hit the "Redeem" button to apply the discount.
OR
Call toll-free 1-866-292-9936, M-F, 8 AM-5PM, CST. and mention this Catalogs.com offer and the Coupon Code - CAT11091 - to your sales representative when you place your order.
No Greater Joy Ministries brings Christian families the Christian parenting resources needed to put children on the right path. Through their collection of illuminating ministry videos, books and tapes, Michael and Debi Pearl have enjoyed great success in strengthening the bonds between Christian families.