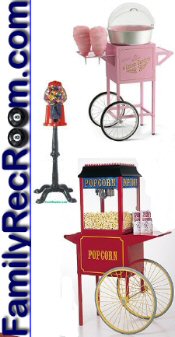 FamilyRecRoom.com
Games and gadgets to make your family room fun!
$10 Off any order Enter code - CATALOGS10 - in the shopping cart at checkout on the FamilyRecRoom.com website.
Make your family recreation room the most popular place in the house with:
Home bars -- Stay in and enjoy with their home bars. Check out some great home bar ideas - from the classic Jack Daniels themed bar to poolside Tiki bars.



Snacks and treats -- Make snacks just like at the movies with a home cotton candy machine, Sno-Cone maker, or one of their home theatre popcorn makers.