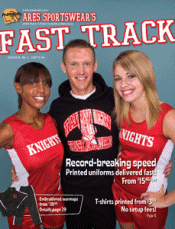 Fast Track - Track & Cross Country by ARES
Men's and women's running shorts, custom track and cross country apparel
5% Off your first order! To receive this offer, enter code - CCTK5 - in the Key Code Promotion box at checkout, on the ARES Sportswear website.
Shop Fast Track - Track & Cross Country by ARES Now!
Get your youth or adult running team on track with customized track gear for cross country and track.