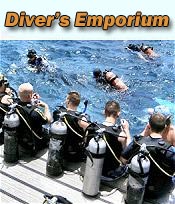 Diverís Emporium - LeisurePro.com
Scuba dive equipment - from diving tanks to sale priced wetsuits
Get 5% Off your first order of $50 or more! Enter the code - CAT5DIS - in the coupon code box during checkout on the LeisurePro website.
Shop Diverís Emporium - LeisurePro.com Now!
A dozen years ago Leisure Pro was the first Internet-based scuba divers supply company, twelve years later they are still the number one store for scuba diving equipment and snorkeling equipment.