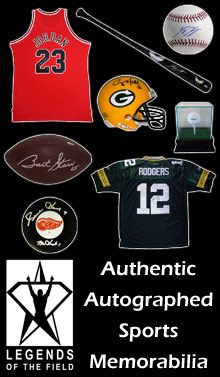 Legends Of The Field
Pro sports autographed memorabilia for every fan
Get 13% off all purchases Enter Coupon Code - Lucky13 - at checkout on the Legends Of The Field website.
Shop these Legends departments now
Legends of the Field is the source you can trust for the hottest signed memorabilia sought by sports fans and collectors. Whether you're looking for a jersey, autographs, or original photographs signed by your favorite athlete, they are sure to have it in their huge collection of 100% genuine pro sports memorabilia.