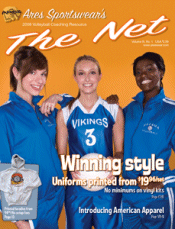 The Net - Volleyball by ARES
The best in volleyball catalogs - warm ups, shorts, shoes & more
Get 5% Off your first order! Enter code - VBALL5 - in the Key Code Promotion box at checkout on the ARES website.
Shop The Net - Volleyball by ARES Now!
Spike your style with great volleyball stuff for you or your team and score with no minimums on uniforms when you print them with ARES vinyl kits!