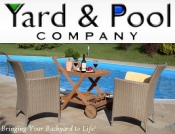 Yardandpool.com
From swimming pool accessories to charcoal grills
$10 Off any order over $50 Enter Coupon Code - CATDSC - at check out on the Yard and Pool website!
If it's about fun in your backyard, they have it at Yardandpool.com. From patio, deck and swimming pool accessories to charcoal grills, staying home just got a lot more fun. Choose from:


Swimming pool accessories - No matter what you need for your in-ground or above ground pool, they're ready at Yardandpool.com Check out their cartridge and sand pool filters, replacement pool liners, automatic pool cleaners and pool covers for all seasons.