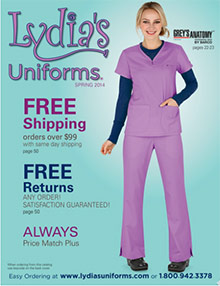 Lydia's Professional Uniforms
Stylish, comfortable, and affordable hospital uniforms, nurse uniforms, medical shoes, and scrubs
Get Free Shipping on all orders of $99 or more Enter the coupon code - CATCOM14 - at checkout on the Lydia's Professional Uniforms website.
Shop these Lydia's departments now
Lydia's Uniforms has been a leading retailer of scrubs, nurse uniforms, lab coats, medical supplies, hospital uniforms and nursing shoes for over 40 years. Lydia's Uniforms offers a huge selection of stylish, inexpensive medical and dental uniforms for every style and size. Whether you are shopping for trendy wrap top scrubs, cartoon-print scrub tops for a pediatric practice, or comfortable Dickies scrubs for your long workday, this is the place to shop!