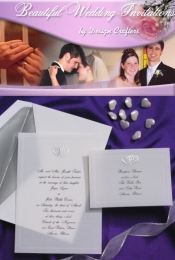 Beautiful Wedding Invitations
Elegant wedding invitations and wedding stationery at affordable prices
Receive personalized envelope seals and an engraved guest book worth over $49! With any order of $200 or more. See the Home page of the Beautiful Wedding Invitations website and click on "Two Incredible Free Gifts" link.
Shop Beautiful Wedding Invitations Now!

The experts at Beautiful Wedding Invitation have taken care of everything for you! They offer a collection of the best wedding invitations for the most incredible prices!

When it's time to buy wedding invitations, check out their interactive website.