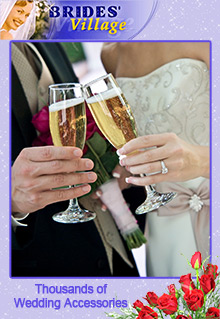 Brides Village Wedding Accessories
An extraordinary selection of wedding favors, wedding accessories & attendants' gifts
Get Free Shipping on orders of $55 or more Enter coupon code - FreeShip10 - at checkout on the Brides Village Wedding Accessories website.
Shop these Brides Village departments now
Getting Married? Find the best selection of wedding favors and wedding accessories at Brides Village. They provide great wedding ideas for your ceremony and reception including themes such as: Precious Moments, Cinderella, Kim Anderson, Dreamsicles and Western.

They also have personalized gifts for the wedding party, and groomsmen gifts (some include complimentary engraving).