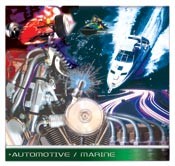 Cable covers, wire looms, cable tags and fire protection for auto and marine wiring
Cable Organizer catalog is the source for auto and marine wiring cable covers, labels, ties, spark plug wire looms, and fire protection coating as featured at Catalogs.com.
Heat shrink cable covers - Protect your vehicle's wiring and hoses from abrasion, vibration, mechanical stress or high temperatures with expandable braided sleeving. Or color code and protect with easily identifiable heat shrink cable cover tubing in over 15 different colors.