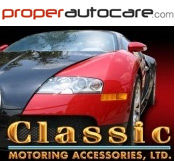 The best car detailing products, polish and wax on the market
Proper Autocare offers the car care and car detailing products you need to keep you car looking showroom new, including the best car polish, car wax, and interior cleaning products - featured at Catalogs.com.
10% discount on your initial order. Enter the Coupon Code / Promotional Code - catalogs - during online checkout. Only good at www.properautocare.com.