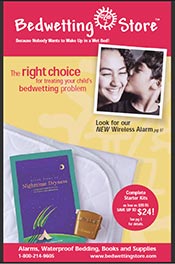 Bedwetting Store – From Malem bedwetting alarms to kid's bedding and more bedwetting solutions
The Bedwetting Store brings parents a selection of bedwetting solutions including Malem bedwetting alarms, bedding, briefs and more premium bedwetting supplies - featured at Catalogs.com.
Get $5 Off any bedwetting alarm or starter kit! Enter the Promotion Code - CATALOG - during online checkout on the Bedwetting Store's website.