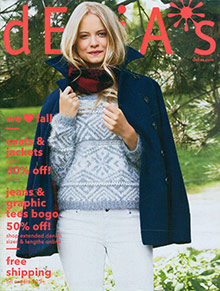 Teen clothes that are in style! From hot denim to cool decor - at dELiA*s
dELiA*s featured at Catalogs.com. The latest in teen clothes. Choose a stylish teen swimsuit, T-shirt, or jeans at Delias!
Get Free Shipping on orders of $25 or more Enter the Promotional code - CATDEL - at the online checkout on the dELiA*s website.
Shop DYNALOG ONLY AS OF 1/1/2015 Now!

Is your wardrobe wanting?
Your shoes a sham?
Your room in ruins?
Whatever you need, you'll find it in the dELiA*s catalog!
Order it today!