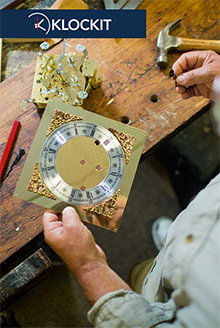 Klockit clock parts suppliers - Clock parts, kits, and clock repair tools
Klockit clock parts suppliers brings you a grand selection of clock repair parts, accessories and clock repair tools from their complete clock catalog - featured at Catalogs.com
Get 10% Off all orders of $25 or more Enter source code - CDC10 - at checkout on the Klockit website.
Klockit is a family-owned business located in Lake Geneva, Wisconsin. For over 44 years, we've been committed to offering quality products at competitive pricing and supplying you with everything needed to build a beautiful heirloom quality clock or repair a treasured keepsake.
Whether you're looking to reconnect with your passion for clock making, maintain it, or trying to discover it, Klockit.com is where you need to go to help figure out how things tick. Klockit clock part suppliers proudly offer a wide variety of clock repair parts, clock plans, and components. From Quartz movements to clock inserts, hour and minute hands, dials, pendulums, and mechanical movements, you will find everything you need to complete your project.