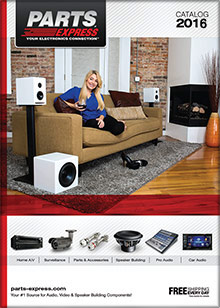 Electronic parts, cables, connectors and speaker parts for your audio and home electronics projects
Why shop at other electronic parts stores when Parts Express has everything you need? Their huge inventory of home audio, car audio and Pro Sound accessories and speaker building components makes Parts Express the Internet's ultimate source for audio at wholesale prices. Their wide assortment of component audio video cables, loudspeaker cabinets, speaker mounting brackets, home theater cables, speaker parts and other components will help you build the system of your dreams.

You'll find a huge selection of raw drivers and more than 12,000 products from Eminence, Blaupunkt, Pyramid, Dayton Loudspeaker, Monster Cable, Phoenix Gold, Acoustic Research, Focal, many OEM manufacturers and more. Find component audio video cables, loudspeaker cabinets and more in the brand and style of your choice.

Have a question? The Parts Express technical support team has the answer to virtually any audio-related problem. Want a second opinion? Post your question on their website discussion board where hundreds of professional technicians discuss electronics every day.

All orders received by 4 pm EST are shipped the same day. Their 45-day Money Back Guarantee gives you the option of returning your purchase if not completely satisfied. For any reason. No questions asked. When you shop at the leader of electronic parts stores, you get everything you need along with excellent service and support.
Get $10 Off orders of $150 or more Enter the Promo Code - PECDC15 - at checkout on the Parts Express website.
Promo code is available on select items. Items that are not eligible are noted on the product detail page.