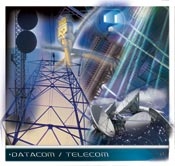 Datacom and telecom cables, organizers and sever racks
Cable Organizer is the source for cable wraps, rack mount server cabinet, firewire cable and server rack systems, as featured at Catalogs.com.
Open and enclosed server rack systems and server rack accessories - At CableOrganizer.com, there is no one size fits all rack mount server cabinet. Shop their component system to create a large or small server rack enclosure to match your array and floor space.