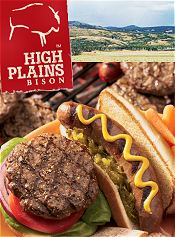 Buffalo: Bison Steak - a traditional meat for the new American palate
High Plains Bison featured at Catalogs.com. Buy buffalo meat, bison meat, and gourmet meals made with bison steak and other choice natural bison meat cuts.
Get $15.00 Off on all orders of $75 or more Enter promotion code - CATALOG10 - in shopping cart on High Plains Bison website.