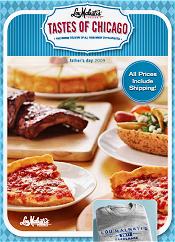 Lou Malnati's - Chicago's best mail order pizza, Italian beef, hot dogs, cheesecakes and Chicago favorites
Lou Malnati's Tastes of Chicago brings you Lou Malnati pizza, the best mail order pizza in Chicago as well as gourmet meals from ribs to cheesecake - featured at Catalogs.com.
Free standard shipping on your entire order! Your savings will be applied automatically at checkout on the Lou Malnati's Tastes of Chicago website for delivery on Mon. - Thur. only.