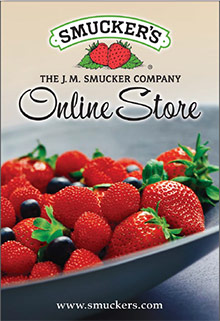 Delicious jams, jellies, syrups and gifts from Smuckers - the name you trust
Smuckers featured at Catalogs.com. Smuckers, the name you remember for grape jelly. All natural peanut butter & jelly, sugar free spreads, imports and gift sets.
Get Free Shipping on orders of $75 or more* Free shipping automatically applied at checkout on the Smucker's website.
*Offer applies to standard shipping only. Offer does not apply to additional shipping charges or multiple address fees. Good only in the Continental U.S.A. Offer not transferable. Void where prohibited, restricted, regulated or taxed. Offer cannot be combined with any other offers. Offer excludes Business Gift orders. No group, business, or commercial requests accepted.
Merchandise subtotal before shipping and tax must be at least $75.

Is there someone you know who could use a little comfort? Maybe a college student missing the taste of home, or a missionary or business person who's far away? Why not send them a little bit of home with a gift of Smucker's all natural peanut butter & jelly.