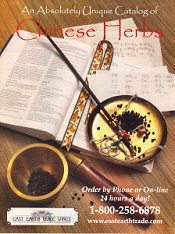 Chinese healing herbs and herbal remedies from centuries old Chinese wisdom
East Earth Trade Winds catalog offers tradition herbal remedies using Chinese healing herbs, teas, essential oils, and other natural all herbal medicine - featured at Catalogs.com.
Get 15% Off your first order of $50 or more. Enter the Certificate code - CC507 - in the Comments section at the end of check-out on the "An Absolutely Unique Catalog of Chinese Herbs" website. Your discount will be applied after your order is placed.