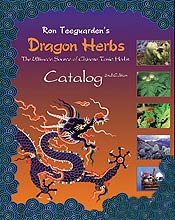 Dragon herbs and Chinese herbal remedies for total wellness
Ron Teeguarden's Dragon Herbs helps you feel your best with Chinese herbal remedies and Chinese herbal medicine formulations that heal naturally - featured at Catalogs.com.
New customers, who spend $50 or more, will receive a free box of Spring Dragon Longevity Tea and a free Oneness Cup. Enter Key Code - catalogs - into the Key Code box when adding item to shopping cart.