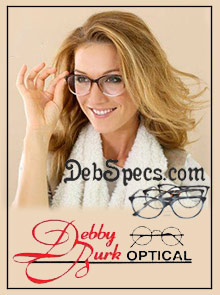 The finest selection of non prescription designer reading glasses and eyeglasses accessories
Catalogs.com Savings Offer
FREE shipping on all orders!

Debby Burk Optical is one of the leaders in non-prescription ready-to-wear designer reading glasses and accompanying eyeglasses accessories, all at affordable prices. With magnifications from +.75 to +600, they have a style for everyone. You'll also find polarized reading glasses for reading in sunlight, bifocal glasses, and other reading magnifiers to suit your reading needs.

Also check out their complete line of eyeglasses accessories including eyeglass cases, eyeglass holders, magnifiers, lens cleaners and much more. If you need eye glasses for reading, snatch up a pair of their snazzy designer reading glasses. Their motto is, "If you're not 100% satisfied - your money back - no questions asked".
Get Free Shipping on all purchases Enter the Coupon Code - catalogs1 - at checkout on the Debby Burk Optical website.