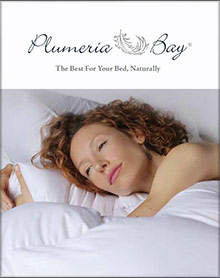 Indulge in fine European bed linens - from sheets to down filled comforters
The Pulmeria Bay collection features fine European linens for your bed, including Egyptian cotton sheets, warm down filled comforters, and luxurious silk bed comforters as featured at Catalogs.com.
Get Free Shipping on orders of $100 or more Choose UPS Ground shipping in the 2nd step of the check-out process on the Plumeria Bay website. Valid in the contiguous US.