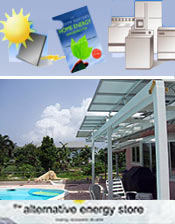 Solar, wind and alternative energy resources and systems for your home
Go Green with the Alternative Energy Store and their home solar energy systems and residential wind power components, with everything from home solar panels to portable chargers featured at Catalogs.com.
Get 5% Off all orders of $150 or more! Enter the code - ALTE4ME - in the "Gift Vouchers & Coupons" box at checkout on the Alternative Energy Store website.