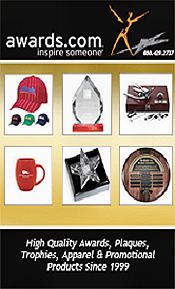 Achievement Awards - Recognition and employee awards, and custom printed promotional items
Awards.com provides businesses with achievement awards and recognition awards with employee awards made of acrylic and crystal - featured at Catalogs.com.
Get 10% Off all orders over $99 Enter priority code - PRAWCAT11 - at checkout on the Awards.com website.
Discount does not apply to set-up fees, taxes or shipping charges and cannot be combined with any other offers or discounts.