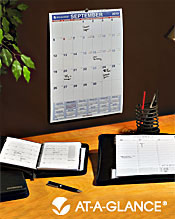 Day planners, calendars and address books from AT-A-GLANCE®
AT-A-GLANCE® has a wide selection of daily planners, from leather day planners to an At A Glance address book - featured at Catalogs.com.
Get Free Standard Shipping on any order of $50 or more Enter the coupon code - FSAAG50 - on the At-A-Glance checkout cart. Valid for orders shipped to U.S. destinations only.