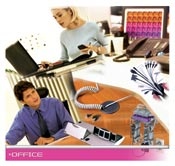 Control the cable chaos with cable organizer clamps, covers and accessories
Cable Organizer products cut through the wire chaos in your office or home with cable clamp organizers and color coded cable covers as featured at Catalogs.com.
Cable organizer solutions - Make routing, identifying and sorting cables, wires and power lines easier with wire looms, sleeving, reusable cable covers, and power and USB cable organizer kits. Bundle wires, prevent time-consuming tangles, and protect your precious cables from water, temperature, abrasion and chemicals with easy to install expandable heat shrink and color-coded cable covers.