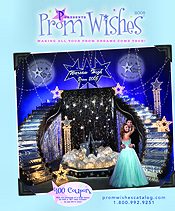 Creative prom decor and themes
Prom Wishes will make your prom night special with prom decor, unique prom themes, crowns and tiaras, plus favors - featured at Catalogs.com.
Save 25% on orders of $99 or more. Use promotion code - QPNNG4 - during checkout. Discount does not apply to shipping charges and cannot be combined with any other offer or used on previous offers.