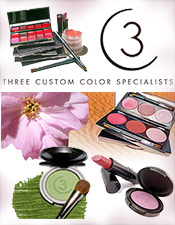 Custom Cosmetics - Custom Blend your cosmetics from concealers to eye shadows, discontinued lipsticks and more.
Three Custom Color Specialists specialize in custom cosmetics from cosmetics lipsticks to concealer and bronzer cosmetics, perfect matches for discontinued cosmetics, makeup tools and more - featured at Catalogs.com.
FREE Domestic Shipping on orders over $75 via US Mail Your Free Shipping will be applied automatically at checkout on the Three Custom Color Specialists website.