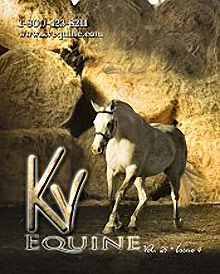 Equine Vet supplies for a healthy horse
KV Vet Supply-Equine Catalog, a long time leader in providing quality horse supplies, offers a complete line of daily care products and equine vet supplies essential for the health and well being of your horse. You'll find vitamins, horse joint supplements and nutritional products, insecticides/fly protection, horse grooming kits and tools, wormers, topical ointments, equine vaccines, prescription medicines and other horse vet supplies.

Included in their catalog is an excellent selection of riding apparel, chaps & chinks, gloves, riding helmets, and rain gear for the horse owner. In addition, they offer saddles, bridles, bits, spurs, roping supplies, farrier supplies, and other equine supplies. Special holiday items are available as well. When you want the best available equine vet supplies, from horse joint supplements for equine joint care to equine vaccines, or horse supplies for daily care and grooming, KV Vet Supply is your ultimate destination.
Get Free Shipping on most items Free Shipping will be automatically applied at checkout on the KV Pet Supply website.