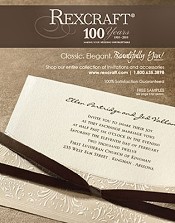 Biggest selection of Wedding Invitations and Accessories at more than reasonable prices
Rexcraft featured at Catalogs.com. Shop for classic, reasonable wedding invitations, including traditional and Christian wedding invitations for a great price. Save even more with their print your own wedding invitations collection!
Get 10% Off any order. No minimum. Please enter the source code - 11134 - at checkout on www.rexcraft.com.